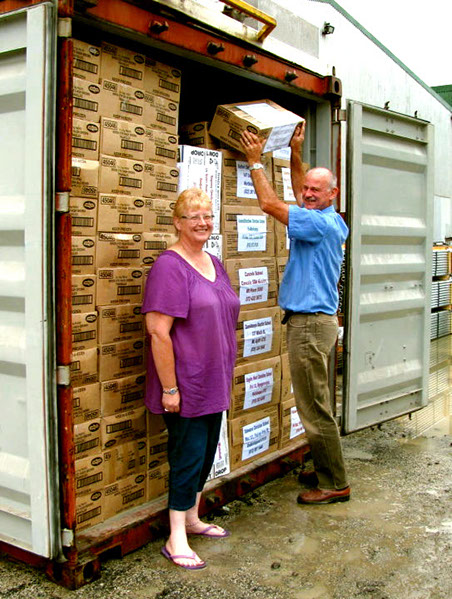 LAI STATS:
—
COST TO SEND ONE BOOK: 40 cents
VOLUNTEER* HOURS TO END OF JUNE 2022: 11,695
MONEY RAISED FOR LAI TO END OF JUNE 2022: $102,245
WE AIM TO SEND ONE CONTAINER EVERY TWO YEARS

SO FAR LIBRARY AID INTERNATIONAL HAS SENT:
NINE, 6 METRE (20 FT) CONTAINERS
9,900 BOXES
260,000 BOOKS
60 COMPUTERS
LIBRARY SHELVING
TO ESTABLISH OR STRENGTHEN LIBRARIES AT
500+ EDUCATION INSTITUTIONS (EARLY CHILDHOOD CENTRES, PRIMARY & SECONDARY SCHOOLS, TECHNICAL COLLEGES AND UNIVERSITIES)
2 PRISONS
1 HIV/AIDS CLINIC
* Volunteers include people from a number of churches in Northwest Tasmania, people from the community, and My Pathway, CVGT Australia and Centrelink work placements.
THE VISION / LINDA ABBLITT – LAI FOUNDER
—
Library Aid International Inc. is the vision of Linda Abblitt, from Tasmania, Australia.
Linda Abblitt, Dip.Miss, BA (Lib & Info.Sc), M.Ed, founder of Library Aid International, went to Kazakhstan in 1998 with Operation Mobilisation (OM) to set up a school library. In 1999, political changes cancelled her plans to work in other former Soviet republics so she responded to a call from Cape Town, South Africa, where a new school was being established for street children. Besides setting up the library at School of Hope, Linda helped with teaching, administration and fund-raising.
From 2000 to 2003, Linda spent time at schools in Ethiopia, Spain and Uzbekistan. After she had set up and computerised records for each library she trained others to manage and maintain them and then moved on to the next library project. Each project took between 6-18 months. Linda has also spent shorter periods as a library consultant to schools in Uganda, Kenya, Armenia, Turkey and Azerabijan.
In 2001 at an All-Africa Educator's Conference in Pretoria, South Africa, Linda was teaching a workshop and asked people why they had come. Every attendant said they wanted to learn how to set up a library in their school! Linda kept thinking of the phrase, Readers Become Leaders. She felt the future leadership of Africa, and similar developing countries, could be developed through books.
Linda moved to Pretoria in 2004 where she surveyed the needs of schools. The response from 100 schools throughout the country indicated they all had a lot less than international standard minimum of 10-15 books per student, and very few students had access to a public library. As she researched further she found that in South Africa alone, less than 20% of primary and secondary schools had a suitable library. Linda worked with these schools for three years helping them to move closer toward having functional libraries which was not easy with the lack of affordable resources locally.
After serving overseas as a librarian in Central Asia, South Africa and Europe, Linda wanted to help disadvantaged schools to increase their stock of urgently required books.
Linda returned to her home in Tasmania in 2006 and began to work on her vision for Library Aid International. Since then she has developed a network of people from school and public libraries around the state, organised a group of volunteers and implemented an infrastructure to collect used educational material, have it sorted, categorised, packed in containers and shipped to various schools internationally.
Library Aid International's goal is to help schools in developing, English-speaking countries.
SOME OF THE FEEDBACK RECEIVED…
"You're appreciated so much for what you've done…with your generosity, you lift spirits and make smiles appear. We were in desperate need of readers and at our school we really instil a love for reading. Your gift of books just came at the right time. Thank you! Thank you! Thank you! The children's hearts are filled with gratitude because someone out there cared."
– Mrs. A. Goss, Feed My Lambs Private Primary School
"Thank you so much for the surprise package of books they are very welcome as our library is very short on books."
– Joyce Mason Helderberg High School
"We would like to extend our sincere appreciation for your dedication and commitment in educating our learners. This contribution will enable us to promote literacy …our school is in need of a library…our heartfelt thanks for ensuring our literacy programme succeeds in leaps and bounds."
– Principal, Gledhow Primary School
"We would like to thank you for the generous donation of library books. These resources will enable us to combat illiteracy and enable every child to have a book to read."
– H.B. Khwuzwayo, Principal, Stanger M.L Sultan Secondary School
"On behalf of the learners and educators, I express my sincere thanks and appreciation to you for your donation of library books. Your kind gesture will be used for the upliftment of education at our school as many of our learners come from disadvantaged backgrounds."
– Mr V Govender, Principal, Parukabad Primary School
"We have finished the distribution of all the books to the schools, herewith attached a list of all the beneficiaries…This has been an amazing project, and will change many, many lives…The thank you letters are trickling in…Thank you to all at Library Aid. The Rotarians who helped with the distribution were very impressed with the way that LAI had packed the books in separate boxes for primary and secondary, and how extremely well they were labelled. It made the distribution very easy."
– Jean Whiley, Secretary, Rotary Club of Bulawayo South, Zimbabwe
"Young people must take it upon themselves to ensure that they receive the highest education possible so they can represent us well…as future leaders"

Nelson Mandela